Our Founders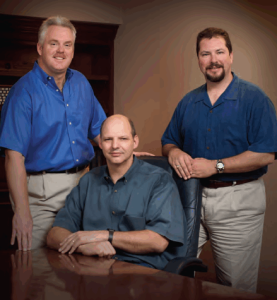 Prime Construction Group, Inc. (PRIME) was founded in 1991 by Thomas M. Perley, Reynolds C. Holiman, and Roy W. Smith, Jr.
Thomas Perley is an Orlando, FL native. He holds a Certified General Contractor license and a Certified Underground Utility and Excavation license.
Reynolds Holiman is a Greenwood, MS native. He received a Bachelor of Science in Civil Engineering from Mississippi State University. Reynolds holds a Florida Professional Engineer license, a Certified General Contractor license and a Certified Underground Utility and Excavation license.
Roy W. Smith, Jr. is an Orlando, FL native. He received a Bachelor of Arts in Business Administration from Lenoir-Rhyne College. Roy holds a Certified Underground Utility and Excavation license and a Certified Building Contractor license.
Reynolds Holiman retired from PRIME in 2009 to pursue a long held dream of working with Christian ministries. Reynolds will offer his engineering and construction expertise to various organizations in an effort to bring clean water, sewer services and healthier living conditions to many people in third world countries.
---
Our Values
Our desire is to build our company by being honest, trustworthy, kind, respectful and supportive while serving others and maintaining the highest level of integrity.
---
Our Mission
Our mission is to:
• Employ persons that will uphold our values.
• Create an environment that will allow employees to enjoy what they do, while providing quality work performed safely that exceeds our customer's expectations.
• Provide our employees with good benefits and the necessary financial resources so they can provide for their families and for their retirement.
• Build partnerships with our vendors, subcontractors and customers that promote successful long-term relationships.
• Create a culture of continuous training and mentoring so that all employees have the opportunity to develop to their full potential.
• Provide an environment that allows employees to be successful at home as well as at work.
---
Our Vision
To build a construction organization that is an industry leader in service to our customers. This level of service will be accomplished through highly trained and motivated employees sharing company resources unselfishly to do whatever it takes to satisfy our customers. This will ensure our company's and employees' success. To this end, we desire that every retiring employee will know their career was spent with an organization that cared and was second to none.
---
Our Philosophy
The Owners of PRIME believe they are successful because of the core values they have incorporated into the day to day operations of the company.
A strong work ethic, respect, pride of work, honesty and integrity are a way of life at PRIME. By providing high quality, detail oriented workmanship and always being focused on the customer, PRIME has earned a reputation of which to be proud. PRIME is committed to providing its employees with a stable work environment that encourages creativity, innovation and personal growth.
Above all, employees are provided the same concern, respect, and caring attitude within the organization that they share externally with our customers.